What are Photo ID Cards?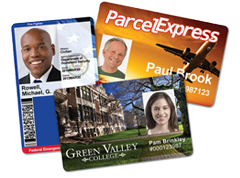 Photo ID Cards are designed to display the photo of the cardholder, along with other information such as: Name, Title, Dept, etc. While the most common use of a photo ID card is for visual identification, most ID's can double to be used in an access control or timekeeping environment. Photo ID's can also incorporate barcodes, magnetic stripes, biometrics and more.
Photo ID Cards can be created by a variety of methods including: Inkjet, Laserjet, PVC Card Printers and more. Depending upon which method you choose, will depend upon which attributes your card will contain, and how you will achieve your final result. Most ID Card Printing operations these days are printed via a dye-sublimation process, or reverse-transfer imprinting. Either of these methods will produce a full-color product similar to your driver's license.
Here at ID Enhancements, Inc., we offer a wide variety of ID Badging Systems for creating your own personal photo ID cards. Click Here for a selection of Entry-Level Systems that you can purchase, open the box and start printing. Creating Photo ID Cards has never been easier!