Texas recently passed a law changing the requirements for healthcare employee ID badges.
Law applies to all personnel offering direct patient care
Employees with a license must display their job title
Perfect for companies selling into hospitals and nursing homes
Proper identification credentials have always been important in healthcare settings. However, in recent years, several states have begun to adopt stricter identification laws, mandating that employee ID badges include certain information, like an employee's title. Texas is the latest state to pass such a law, with HB 2897 (2015) going into effect on September 1, 2015.
Badge Buddies are the perfect way for your customers to satisfy Texas HB 2897 (2015)
Healthcare institutions in Texas will already have an ID system in place due to previous laws. Therefore, many will benefit from a solution that serves as a supplement to your existing program, rather than a complete overhaul.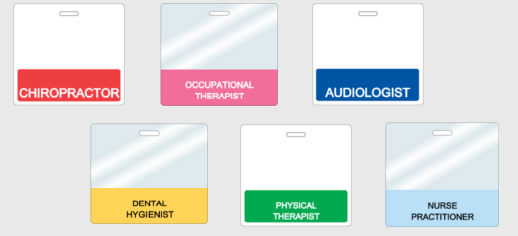 Badge Buddies are durable role-recognition cards that hang behind an existing ID credential. Badge Buddies are available in white or clear material, and feature bright colors and bold text to make a title clearly visible. Badge Buddies are slotted, and attach to an existing ID badge with a strap clip, lanyard or badge reel for a complete solution.
A number of stock Badge Buddies, featuring popular medical titles like PHYSICIAN and NURSE PRACTITIONER, are in-stock and available for immediate shipment.